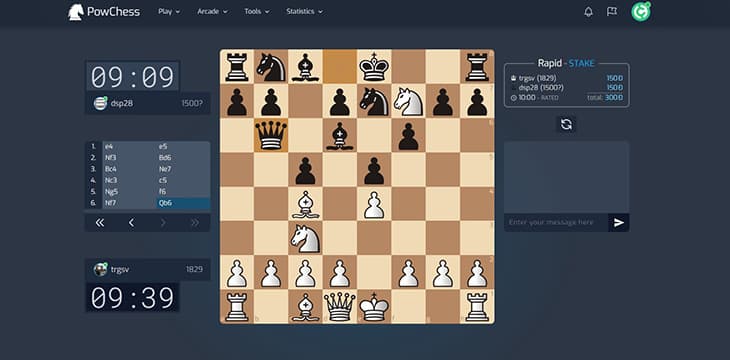 Chess on Bitcoin? Meet PowChess
Lately, all sorts of innovative and exciting gambling games have been released on Bitcoin SV. From CryptoFights to Haste Arcade, gaming is one of the ecosystem's biggest use cases, and now we have player versus player (PvP) chess.
PowChess is now available on BSV in a public beta. It dubbed itself "the only chess server where you can profit from your games". Finally, chess players around the world will have a way to play chess and earn Bitcoin (BSV).
PowChess is now live! Very excited to see another PvP game enter the arena

Explore the different modes playing chess for real money. The stakes can be high or low, or you can just watch the masters go at it

Follow @PowChess_ and start playing here: https://t.co/vojhWdfbEm pic.twitter.com/Az4LM9RWxU

—HandCash (@handcashapp) January 7, 2022
What is PowChess and how does it work?
PowChess honors proof of work in its name, and it's the first real-money PvP chess game on the BSV protocol. Using popular wallets like Handcash, players can log into PowChess and play against each other to earn BSV.
Here are some of the main characteristics from PowChess:
No monthly subscription or premium account is required.
Real money PvP games and tournaments are available.
All payments are processed in less than a second and delivered directly to your wallet.
PowChess takes a 3.5% commission on all games. You will never see advertisements.
Transactions below 1 cent are possible with BSV micropayments.
Earn activity points by being active in PowChess. The top 100 on the activity board win real money.
Clearly, PowChess is the first of its kind and has the potential to revolutionize the way online chess works. Imagine tens of millions of chess players around the world battling to earn BSV with the ability to play with payouts of less than a penny. That's what PowChess brings to the table.
Arcade Games PowChess
Real money PvP chess games aren't the only thing PowChess offers. There are also three chess-based arcade-style games in the Haste Arcade.
Here's how they work:
MateStrom – Find as many checkmates as possible within three minutes. If you make a mistake, it's all over.
Series 64 – Try to capture all the pieces on the board in one sequence. For each new level you reach, there is an additional coin. You have three lives.
MoveChain- The objective here is to make as many hits as possible against the bot. When you win the game, you earn a place on the leaderboard.
There are all kinds of play-to-earn games with the ability to earn micropayments from every player who fails to beat your high score. These PowChess games are a welcome addition to the already very entertaining selection of games on Haste Arcade, and they show what is possible on BSV that is not possible on any other blockchain.
PowChess and the continued growth of BSV
A quick glance BSVData.com or any other BSV analysis will tell you that iGaming is the top use case right now. With games ranging from CryptoFights to those found in the Haste Arcade driving millions of daily transactions, BSV is growing at a blistering pace.
Why does this happen? As PowChess shows, there are things game developers can do on BSV that simply aren't possible on other blockchains. For example, BSV's ability to facilitate instant micropayments of less than 1 cent, through its extremely low fees of $0.0001 and below, makes possible exciting new use cases such as micro betting and generating recurring revenue from leaderboard positions. For these and other reasons such as scalability, developers such as those behind PowChess chose BSV.
At a pace almost too fast to keep up, we see a steady stream of new, innovative games and apps being released on the original Bitcoin protocol. With over 4 million daily transactions being the norm now and large BSV miners/transaction processors like TAAL (CSE:TALAL | FWB:9SQ1 | OTC: TALAF) gearing up for 4GB blocks, the future is bright for BSV.
We wish PowChess much success and a very bright future! You can find out more about the PowChess Official Site.
Read the latest ebook, BSV Blockchain as an Enterprise Cybersecurity Framework.
New to Bitcoin? Discover CoinGeek bitcoin for beginners section, the ultimate resource guide to learn about bitcoin – as originally envisioned by Satoshi Nakamoto – and blockchain.