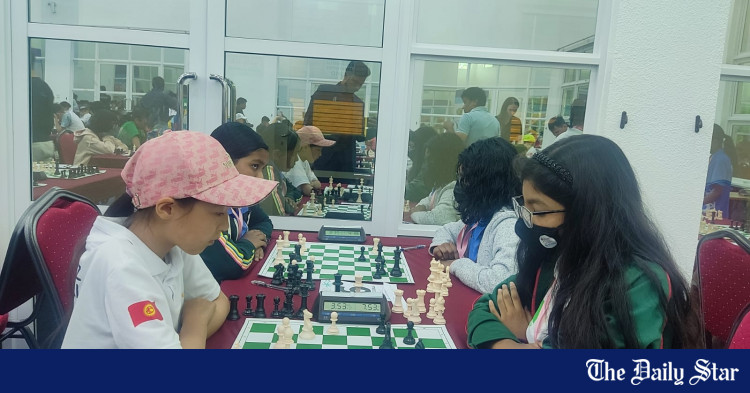 Khusbu takes gold in U-10 chess
Warsia Khusbu won a gold medal in the girls under 10 group in the rapid chess rounds of the West Asia Youth Chess Championships on the island of Ukulhas in the Maldives today.
Khushbu, who was the highest-ranked player in the U-10 girls' group, picked up 5.5 points in seven matches to leave behind Uzbekistan's Xikmatkhonova Mokhinur and India's Hanya Shah to finish top despite losing to Omirserik Alima of Kazakhstan and a draw against Kyrgyzstan. Tursunalieva Nurelina in the rapid chess event.
The 10-year-old had also won gold in the same tournament in Uzbekistan. Previously, she also won a gold and silver medal at the Asian Youth Championships held in Thailand in age group competitions.
Mohammad Sajidul Haque was the most successful Bangladeshi man, winning bronze with 5.5 points in the U-10 Open group, where India's Sahib Singh and Sri Lanka's Gunathilake MD Vinuda Shenal won gold respectively and money.
WFM Noshin Anjum competed in the U-18 open category, finishing seventh with three points while Kazi Zarin Tasnim became fourth in the U-18 women's group with 4.5 points.
In the U-16 girls group, Jannatul Ferdous finished eighth with three and a half points while Mohammad Shaker Ullah became seventh with three points in the boys open group.
Isran Jahan Diba finished sixth with four points in the U-14 women's group,
Sakline Mostafa Sajid and CM Manon Reza Neer are fourth and fifth respectively with 4.5 points each in the U-12 open group.
Aiyan Rahman finished sixth with four points in the U-10 Open group, while Safayat Kibria Azaan and Ryan Rashid Mugdho finished sixth and tenth in the Under-8 group with 4.5 and three points respectively.