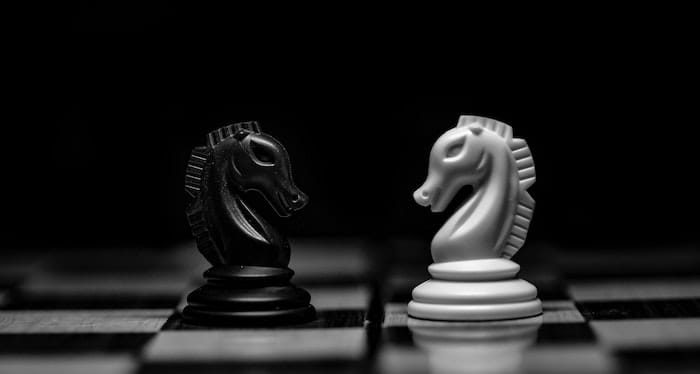 Why litigation is a game of chess
DWF Senior Partner Paul Maddock explains how his passion for board games helps him with his day-to-day legal life
The reason Paul Maddock, Senior Partner, DWF, loves business litigation so much is that it's about strategy and problem solving.
"I like board games and strategy games, from chess to Monopoly," he says. "Litigation is similar because you are trying to do the best you can with the hand that you – or your client – have received. On the first day, the client gives you the documents and the facts, you piece them together, offer them a range of options and possible solutions, and you help them find the best way to proceed. I like the start of the process, when the customer presents the problem to you. I also like that it's pretty unpredictable, with ups and downs in the job, for example, an urgent injunction can land on a Friday afternoon.
Maddock has been with DWF for 12 years, completed his training there, including a secondment to Lloyds Bank, qualified in commercial litigation and shortly thereafter returned to Lloyds on secondment for an additional six months. He started his training contract with an open mind about what he eventually specialized in and found that he enjoyed commercial litigation very much.
He is currently a trainee supervisor and participates in the trainee recruitment process, serving on interview panels and meeting candidates at the DWF Assessment Center.
On a day-to-day basis, he deals with shareholder disputes, contractual disputes, breaches of fiduciary duties, cases of professional negligence, and trust and probate applications for high net worth individuals. These shows cover a wide variety of sectors, from financial services to retail.
The application deadline for the 2022 DWF Summer Vacation Program is January 14, 2022
The types of complaints tend to follow trends. Currently, due to the Covid pandemic, DWF is seeing numerous claims related to supply chain issues, force majeure, fraud and insolvency. The pandemic has also moved work into the virtual sphere. As DWF is an international company, Maddock is used to holding meetings virtually and has, due to social distancing restrictions, mainly appeared in court and attended mediation on a virtual basis since the start of pandemic, although one of his cases in the past year has gone to a full trial in person. Regarding the virtual court and mediation, he says there are benefits for both the lawyer and the client, as the efficiencies reduce travel time and save the client money. money.
This month, however, he has scheduled a court and in-person mediation, so normal life resumes. He will also be attending the Law Society of England and Wales LGBT + Committee in person at Law Society Chancery Lane headquarters for the first time since the start of the pandemic. Maddock has been a member of the committee for three years, working to promote and oversee LGBT + issues in the legal profession, for example, producing a best practice guide for businesses, commissioning and analyzing research, mentoring other professionals. , reporting sources of support and attending Pride. events. There are 12-16 committee members who meet four to six times a year and divide into groups for specific projects.
The committee recently released its Pride in Law report, based on an investigation conducted earlier this year. "He made some interesting discoveries," says Maddock. "For example, you would think that because of the way society is and how it has changed, the more junior members of the profession would have an easier time going out to work. It is for this reason that much emphasis is placed on older models. But this is not the case. In fact, a lot of young professionals find it difficult to come out because they fear it will affect them early in their careers.
Maddock also started Out Front, the company's own DWF networking group for LGBT + people, a few years ago. He says:
"DWF has been very supportive of EDI [equality, diversity and inclusion] initiatives. From my experiences as an intern, I cannot sing his praises enough. A big event that our interns hosted a few weeks ago was a panel of young professionals on EDI, where they interviewed clients about their own initiatives and brought people up to talk about their own experiences.
So what advice does he give to potential candidates? "Going on secondment has really helped my business abilities, it has improved my understanding of clients' goals and how their business works, so I would definitely recommend going on secondment," says Maddock.
Here is more advice for applicants: "Enthusiasm is worth its weight in gold. It is important that a person is enthusiastic about the work and pleasant because he will be working long hours with his future colleagues. When applying, try to increase your business awareness by reading a post that claims that, for example, I have subscribed to The Economist, which helped me to keep abreast of events.
He keeps on:
"On a less intellectual note, I watched Dragon's lair, which gave me insight into what businesses are interested in and how they think. Finally, find a company that works for you and that suits your temperament. It's a two-way street – it may not seem like that right now, but it is, so it's important to make a choice that's right for you.
The application deadline for the 2022 DWF Summer Vacation Program is January 14, 2022
Paul Maddock will speak at "What corporate lawyers do – with Goodwin Procter, Squire Patton Boggs, DWF and BARBRI", a virtual student event taking place on Tuesday October 26th. You can request to attend the event, which is free, now.
About Legal Cheek Careers publications.