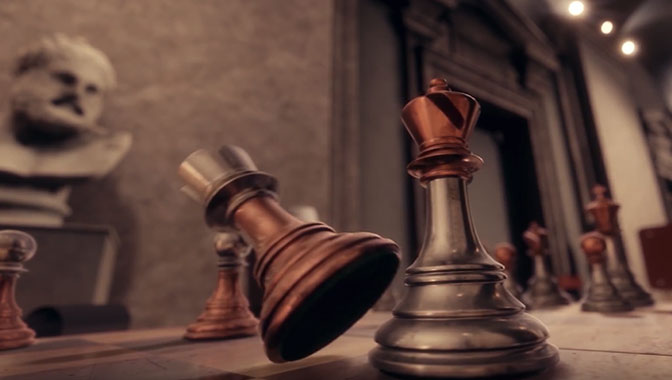 Will chess become the next big eSport?
A year ago, Magnus Carlsen created the 'Magnus Carlsen Invitational' tournament which brought professional chess online for the first time. The tournament helped spark a renaissance in online chess and became the first event in a series of online tournaments known as the Meltwater Champions Chess Tour.
Breakthrough Initiatives is a suite of space science programs that study the major questions of life in the Universe, such as whether primitive cell life exists on neighboring planets, whether there are other intelligent life forms beyond. Earth and how far human civilization can travel in space. The Breakthrough Junior Challenge is a global science video competition aimed primarily at high school students. Both projects were founded by technology and scientist investor and philanthropist Yuri Milner and his wife Julia and funded by the Breakthrough Prize Foundation.
The partnership is a testament to the renewed popularity of chess, attracting interest from some of the biggest names in the tech industry.
Innovation and technology have made chess more accessible, and its popularity has skyrocketed over the past year due to a combination of Magnus Carlsen and other top chess players regularly participating online at Meltwater. Champions Chess Tour; increased cultural interest stemming from the Netflix series "The Queen's Gambit"; and chess is gaining popularity with Twitch streamers.
"The Breakthrough Prize Foundation is quite simply a great non-profit organization. I have been involved in the Breakthrough Initiatives from the start and am always curious and fascinated by their efforts to explore life in the universe. With this partnership, I hope that the best chess players in the world can come together and raise awareness of the Breakthrough Junior Challenge, which inspires students around the world to explore their favorite scientific theories, "said world champion Magnus Carlsen.
This partnership is a radical change for chess and will help bring the sport to a wider audience. The world of chess, the tech industry and space exploration have long crossed paths, and now we have the opportunity to partner with some of the greatest minds in the tech industry, using the game we love to promote. space science is the culmination of many years of shared history, "says Andreas Thome, CEO of Play Magnus Group.
"Magnus, with his incredible wit and accomplishments, is an inspiration not only to chess players but to millions of young people curious about deep ideas," said Julia Milner. "We hope his support for the Breakthrough Junior Challenge will inspire them to participate this year as well. "
Magnus Carlsen and the Milners have known each other for years and Carlsen was inspired by their interest in space. Five years ago, Carlsen was one of the co-signers of the Breakthrough Space Initiative open letter, calling for an investigation into intelligence in space. Drawing parallels between space and chess, Carlsen says, "Just like space, chess is endless. In fact, there are more potential movements in chess than atoms in the universe ".
About the 2021 Meltwater Champions Chess Round
The 2021 Meltwater Champions Chess Tour will determine, for the first time in history, the world's best chess player over a full season of online chess. Starting in November 2020, the Meltwater Champions Chess Tour features monthly tournaments culminating in a final tournament in September 2021. The world's best chess players will compete against each other in a total of ten quick chess tournaments. All games will take place online at www.chess24.com with players competing for a total prize pool of $ 1.5 million.
About the Play Magnus group
Play Magnus Group is a global leader in the chess industry focused on providing top-notch digital experiences to millions of chess players and students. The company offers e-learning and entertainment services through its market-leading brands: chess24, Chessable, iChess, CoChess, Play Magnus App Suite and Meltwater Champions Chess Tour. The Group's mission is to develop chess to make the world a smarter place by encouraging more people to play, watch, study and make a living from chess.
Related